ECP/EECP Therapy Research
ECP Therapy is a non-surgical treatment that can reduce the debilitating symptoms of stable angina. Extensive research has demonstrated ECP technology as an effective tool to improve micro circulation and vasodilation in people suffering from the effects of heart disease, in particular stable angina. The European Society of Cardiology approved ECP technology and in 2013 upgraded its recommendation, stating that the treatment should be offered to individuals in who heart bypass surgery or stents are not possible or appropriate. The treatment is for those diagnosed with heart disease and angina, whose condition has not improved with medication, and who are unable to undergo surgery or wish to try a non-invasive alternative to standard treatment options.
Key benefits of treatment
Studies have clearly demonstrated chronic stable angina patients who respond well to ECP therapy often experience (1):
A reduction in symptoms: shortness of breath, dizziness, fatigue, weakness, pain or pressure in chest, back, neck, jaw, shoulders, or arms — providing an overall improvement to quality of life.
An increase in energy and exercise tolerance enabling a more active daily routine.
Results that can last for 3 years or more reducing re-hospitalisation and certain medication.
Hemodynamic impact of ECP therapy
Simultaneous deflation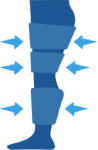 Decreased systemic vascular resistance (2)
Decreased cardiac workload (3)
Decreased myocardial oxygen consumption (2)
Decreased after load (2)
Due to the hemodynamic effects of ECP, the benefits apply not only to the heart, but to the entire cardiovascular system. Enhanced blood circulation during the inflation and deflation of cuffs during the therapy, greatly increases shear stress (the frictional force on blood vessels), thereby stimulating production of Nitric Oxide.
Sequential inflation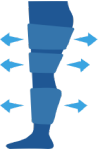 Retrograde aortic pressure wave (2)
Increased diastolic pressure (2)
Increased intracoronary perfusion pressure (2)
Increased myocardial perfusion (2)
Increased venous return (2)
Increased preload (2)
Increased cardiac output (2)
Effective and proven
Here are some key findings from extensive research into how the integration of ECP therapy can improve the patient quality of life, reduce long term treatment costs and re-hospitalisation.
Clinical effects of ECP
Nitrate use (4)

Improvement in time to angina during exercise (4)

Improved exercise duration (4)

The benefits of therapy that last three or more years (1)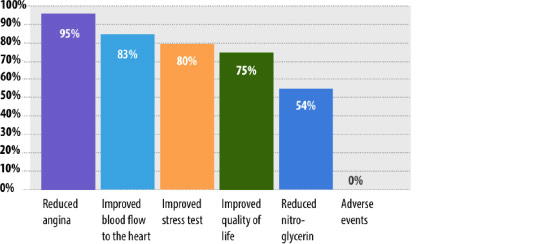 Additional benefits of ECP therapy
Other key therapy impacts include:
Sustained improvements at three years in quality of life scores
The frequency of angina reduced by four episodes per week immediately post-therapy and this was sustained at the three year follow-up.
Long-term follow-up from the IEPR CCS classification (1)

1,061 patients from 36 centres completed a three year follow-up.
9% of patients improved by at least on CCS classification.
Impact on hospitalisation
ED visits and hospitalisations six-month follow-up (5)
Significant reduction in rates of ED visits and hospitalisation compared to six month pre-treatment.

Impact of therapy on HF re-hospitalisations (6)
Observed and predicted re-admissions rates for 90 days after discharge.

1. Loh, et al. Enhanced External Counterpulsation in the Treatment of Chronic Refractory Angina: A Long-term Follow-up Outcome from the International Enhanced External Counterpulsation Patient Registry. Clin Cardiol. 2008;31:159-164. 2.Shea M, et al. An Update on Enhanced External Counterpulsation. Clin Cardiol. 2005;28,115–118. 3. Lloyd-Jones D, et al. Heart disease and stroke statistics—2010 update: a report from the American Heart Association. Circulation. 2010;121:e46–215. 4. Braith RW, et al. Enhanced external counterpulsation improves peripheral artery flow-mediated dilation in patients with chronic angina: a randomized sham-controlled study. Circulation. 2010;122:1612-20. 5. Soran O, et al. Impact of external counterpulsation treatment on emergency department visits and hospitalizations in refractory angina patients with left ventricular dysfunction. Congest Heart Fail. 2007;13:36-40. 6. Tecson K, et al. Impact of Enhanced External Counterpulsation on Heart Failure Rehospitalization in Patients with Ischemic Cardiomyopathy. Am J Cardiol. 2016;117:901-905.